A crisp, refreshing, race with a spicy aroma and hoppy finish.
Official Race Results Are Here »
---
What?
An adventure race to kick-off the winter season! Trail running, orienteering, urban shenanigans, and more! Up to 6 hours of racing. Just your feet and your compass (no biking, no paddling).
Lots of fun. Lots of adventure.
When?
11 AM start on Saturday December 6, 2014 :: Dover, NH

Coming from Boston? The train from Boston's North Station departs at 9 AM on Sat and you arrive to Dover at 10:30 AM, just enough time to get a cup of coffee and get to the starting line!
Where?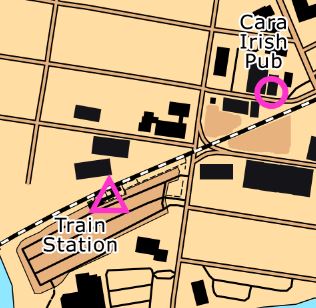 Start and finish in downtown Dover, NH -- at the Cara Irish Pub (11 Fourth Street, Dover, NH 03820; ph: 603-343-4390) Just down the street from the Dover train station.

There is plenty of free parking at the train station or the two lots south of the Pub along the train tracks (see shaded regions in map).
Register
Price is $35 per racer; increases to $50/racer Nov 17th. Registration is now open; space is limited and the previous edition sold out.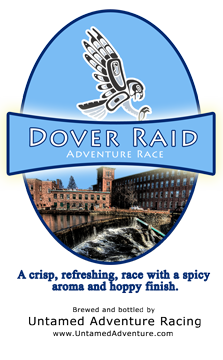 Team or solo?
Compete as a solo racer or in a team; we're flexible: it's up to you. A team of one, or a team of 10 people, the more the merrier. Each participant must complete online registration.

If you compete as a team, you must stay within 50 meters of one another for the duration of the race -- do not separate!
We're maintaining a race roster so you can see who all is joining the fun.
Race Format?
The race course is revealed to participants the morning of the race, just a few minutes before the race start. You will be given maps with race checkpoints printed on them. You will have up to 6 hours to visit as many race checkpoints as you can.

Some race checkpoints are worth more than others in the score tally, and the team (or solo athlete) with the most points at the end of the day will win the race. You may skip as many checkpoints as you want, allowing inexperienced teams to bypass any sections with tougher map & compass work than they're up for -- but you don't score points for the skipped checkpoints.
Who Are You Guys?
We're more accustomed to organizing multiday expedition races in "off the grid" locales . . . but for this coming December, we're brewing up another batch of Dover Raid fun.

The Dover Raid was first run in 2012; we expected a small group of our friends to come out for some weekend navigating/running fun, but 70 competitors came out and it actually turned into quite the race. We'll see what 2014 and the 2nd edition has in store.

It will be fun, you will be surprised, and know our slogan still applies: you may not be ready for us, but we're ready for you!
Mandatory Gear
Every racer must have with them at all times: a compass and a whistle.

Every team (or solo athlete if you're not competing as a team) must also carry a functional mobile phone with them for safety purposes. Depending on the weather for race day, organizers may add items to this list such as waterproof jacket, etc.
Finish Time
The race course closes promptly 6 hours after the race start, so racing concludes by 5 PM. You may elect to go to the finish before 5 PM; nobody is forced to stay on the course longer than they want. If you return after 5 PM you will be disqualified from the race results, so budget your time wisely.


Final Remarks
While this is an "urban adventure race" don't take it lightly. You will certainly be in the woods a good bit. In 2012, most competitors spent significant time on trails or off-trails in the forests around Dover, so this is barely an "urban" adventure race. You might have streams to cross. You might find the New Hampshire weather in December is uncooperative (although Dover is known for tropical conditions in December). While this is a perfect first race for those new to adventure racing, experienced racers will find the Dover Raid a challenging day worthy of their effort.
Those who know us, know that we never do anything half-way. Come out for a fun day in the woods and urban jungle of Dover!
And, yes Dave, like in 2012
there will be beer
at the finish line.
If you have specific questions not answered here or would like more information, email us at info[at]UntamedAdventure.com and we'll get back to you.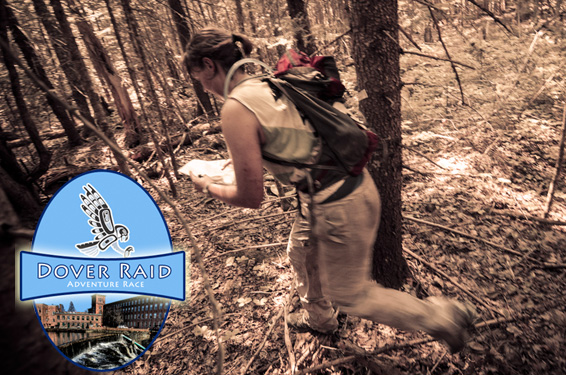 ---